Ville recording - I Love You
( 20 Votes )
So this one has 3 release.... the first one even was not watermarked but the quality is very shity.
The second is almost like that but its just 1min...
This one is 2min. and you can see part of Wicked Game (acoustic) from The 13th Floor party. The source is very old VHS and the audio is only left channel.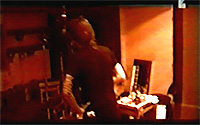 Download:

Screens:
Wicked Game (Acoustic) - I Love You (recording) - VHS HIM MANIA