Interview Rock am Ring 2008
( 29 Votes )
Hello once again!
Probably most of you waiting for the full rip of Rock am Ring 2008. For good or bad there is already a very nice rip of this concert in the torrent sites. So i don't need to release another copy like that.
But here is:
Interview.with.Ville.Valo.(Rock.Am.Ring.2008).DVBRip.Xvid.HIMMANIA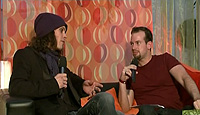 Download:

ScreenShot: Click Here!